Are you a discerning traveller? Wish to relax? Want to be active? Yearning for the element of balance?
Then you need to look no further than incredible Koh Phangan where you will find meditation, yoga, saunas, detox and wellness centres to Muay Thai boxing, kayaking, wakeboarding, kite surfing, beach volleyball, paddle boarding, zip lining, elephant trekking, archery, diving, snorkelling, wave riding, free diving, horse riding, trekking trails, hiking trails, mountain biking, rock climbing and fine dining all at your fingertips.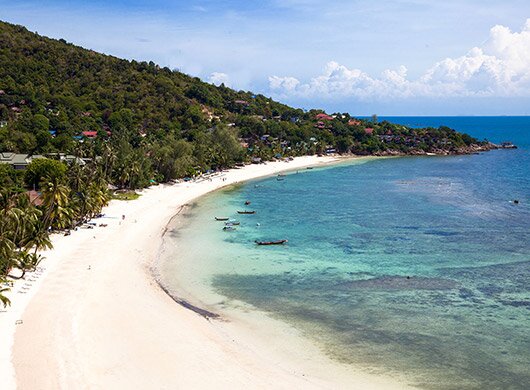 Koh Phangan, accessible via boat/catamaran from mainland Suratthani or a short ferry ride from Koh Samui, may be synonymous for the Full Moon Party contained at the southern most tip of the island, however, Koh Samui's pretty little sister has so much more to offer for all discerning tastes and budgets.
Blessed with an abundance of waterfalls, the most famous of which must be Than Sadet Waterfall visited many times by the revered Great Rama V who left his royal seal engraved on a rock which can still be seen to this day. The late and beloved King Bhumibol Adulyadej (also known as Rama IX – as he was the ninth monarch of the Chakri Dynasty) had also visited Koh Phangan thus this island holds a spiritual connection to the Thai nation and tourists alike.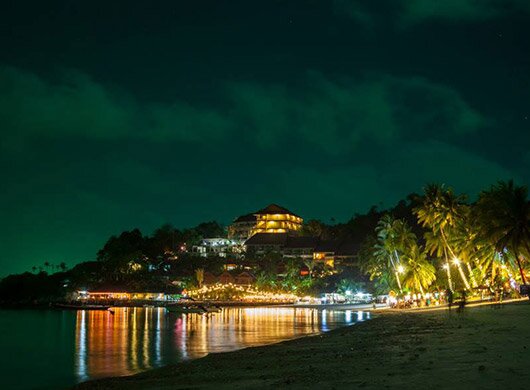 Buddhist Monks realised Koh Phangan's tranquillity and spiritual importance and subsequently settled in Wat Phu Khao Noi just outside of the main town of Thong Sala as one of the first temples on the island. Within an area of approximately 167km2 with over 70% being unspoilt mountainous and tropical forest many more temples are nestled coherently within the islands natural flora and fauna offering a feast for the eyes of all visitors.
Koh Phangan being relatively undiscovered and undeveloped still has the postcard perfect secluded deserted beach coves awaiting discovery via the traditional mode of transport, the long tail boat or for the more intrepid explorer by hike. You truly feel that you are the first to leave a footprint!
In that vein Koh Phangan's beauty is emerging as an attractive destination for weddings and events. Due to Koh Phangan's granite structure, there are several small mountains where it's possible to trek/hike. The highest being Khao Raa at over 600m above sea level taking 2-3 hours to realise the summit. There is a bounty of wildlife from monkeys, wild boar, exotic reptiles to stunning birds of paradise not forgetting the spectacular coral reefs that envelop the plentiful bays where the amazing underwater world is accessible for snorkelers and divers equally.
Luxurious chartered yachts circumnavigate this idyllic isle daily. Soaking up the bountiful canopy from off shore then anchoring to witness a stunning sunset that Mother Nature delivers time and time again.
Koh Phangan, situated within the Gulf of Thailand in the province of Suratthani is the centre of the Samui Archepelago. Shouldering Koh Samui and Koh Tao it is not only "worth a visit" it is an essential enhancement to your Kingdom Of Thailand visit.
The versatility found on the island of Koh Phangan is a draw to visitors of all walks and ages.
The original back packers of yesteryear have now grown up and are the new breed of diverse visitor, with their families, who are investing in this slice of paradise.
Found predominantly in the more relaxed north and west of Koh Phangan you will see a more authentic Thailand with top end luxury villas aesthetically constructed and enhanced by the native flora and dramatic landscape.
An integration that is refreshing and in keeping with traditional Thai styles and values to which a certain clientele look for.
The indigenous populace continue to harvest cashew nuts, coconuts, squid and fish however there is a harmonic co-dependence between the local and expat communities, unlike neighbouring islands, a balance that is invigorating to witness.
Benefiting from the creature comforts of a Makro, Big C, Tesco Lotus Supermarkets, Home Mart, Home Pro, a choice of delicatessens plus fine dining, Koh Phangan is moving forward at a slow but steady pace.
The island of Koh Phangan is a phenomenally special destination, some would say a national treasure. It is surely a gem in the Gulf of Thailand.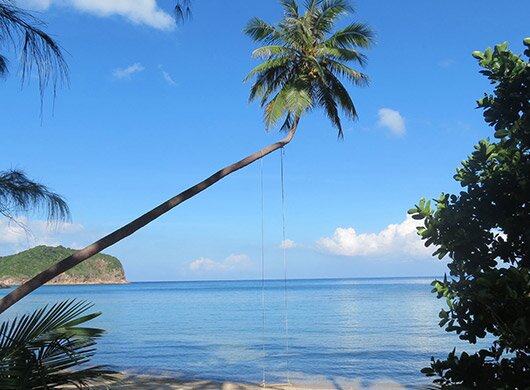 Prices can vary greatly depending on the location of the villa (closer to the beach or beach-front means you will pay for the access and view!), the size/bedroom numbers, the facilities, services and the standard of the villa – with several levels of luxury available! There are hundreds of villas available on the islands starting from basic, mid-level, luxury and beyond – it's truly reliant on your budget and your requirements – either way, you will not be stuck for choice.
Generally a deposit of 50% or more is required to secure the villa of your choice prior to your holiday and the remainder paid in full upon arrival, this may vary from agent to agent. Read the rental agreement very carefully to make sure you understand what's provided as well as any and all conditions, exclusions, inclusions, costs and penalties.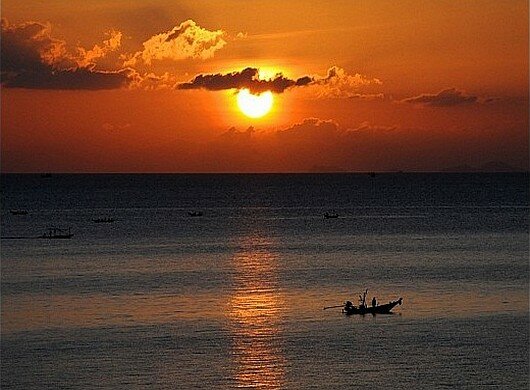 When you decide on the ideal holiday villa to suit your needs, you can relish in the fact that you will enjoy privacy, space and of course the beautiful tropical surrounds of Koh Samui and Koh Phangan. Happy holidaying!